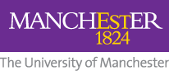 Home
Disability Advisory and Support Service
Deadline for exam support
To receive exam support in May/June 2016 exams:
Register with us and agree your exam support with an adviser by Thursday, 21st April 2016 at 4pm.
Disability Advisory and Support Service
Disabled students make up over 11% of University of Manchester students, and we're proud to offer an accessible and inclusive service.
The Disability Advisory and Support Service (sometimes called the DASS) supports a variety of different people, whether students, staff or supporters. We want to help you succeed - in your studies, work, and the rest of your University experience.
Use our site to find out more about our services, who is eligible for support, and how to access support.